Components
Intelsius offer a wide range of components that can be purchased individually or within our fully built solutions. These components allow customers to comply with legal regulations when shipping a range of samples or pharmaceuticals.
PathoPouch 95kPa
Category B
The Intelsius PathoPouch is a 95kPa flexible pressure vessel designed to meet transport regulations (independently tested by BVI – an ISO17025 accredited laboratory). It is leak-proof and suitable to hold a wide range of primary containers, such as blood vials, specimen containers, swabs, blood collection bags, and medical devices.
Discover More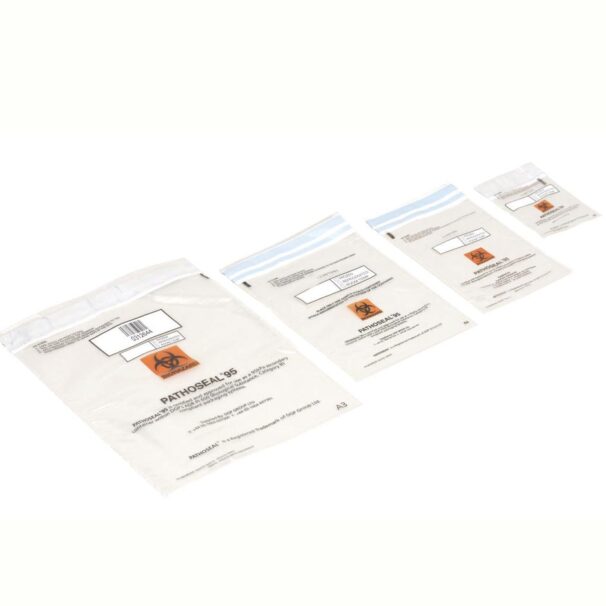 PathoSeal
Category B
PathoSeal 95 is designed and tested to withstand a pressure difference of 95 kPa to meet UN3373 Biological Substance, Category B regulations.
Discover More
PathoSorb
Intelsius PathoSorb is a Super Absorbent Polymer (SAP) that ensures excellent absorption capacity to size ratio. In addition, the range comes in multiple sizes, ensuring IATA standards can be achieved whatever sized sample is transported.
Discover More
Compliance Labelling
Intelsius provides a comprehensive range of UN regulation labels to meet transport marking requirements. Category A and B labels feature a peel-off section with additional markings.
Discover More
Sample Extraction Tools
Ergonomically designed, each Sample Extraction Utensil is available in either straight or curved form, depending on your preference. Ideal for soft tissue extraction that causes minimal damage to the extracted sample.
Discover More
PharmaChill
Intelsius PharmaChills offer a rigid and reusable water-based PCM ideal for 15°C-25°C and 2°C-8°C solutions.
Discover More