We have over 20 years of experience designing and manufacturing Category A and B compliant sample transport solutions. In addition, we offer expert Technical and Customer Services to ensure we can meet your specific clinical trials packaging needs.
Whether it's compliant sample transport, temperature-control, real-time tracking or a combination of all three, Intelsius offer a wide range of clinical trial packaging solutions.
Protect Your Samples
We've been designing and manufacturing Category A and B compliant sample transport solutions for over 20 years. We've worked with a range of partners to ensure they achieve full compliance when shipping clinical samples, including transporting samples for diagnostics and delivering pharmaceuticals and medicines to patients.
We offer a wide range of solutions, such as our PathoPak and PathoShield sample transport packaging, which are complete shipping solutions designed to carry a wide range of primaries, including swabs, blood vials and sample containers.
A variety of labels, sample containers, primaries and secondaries can be added to achieve the most efficient solution and, if required, category A compliance. As a result, the Intelsius product range can satisfy expectations throughout the entire clinical trial process, from intricate phase I trials to more extensive phase III trials.
Click the button below to learn more about our wide range of Category A and B compliant sample transport solutions.
Find out more
Maintain Sample Temperature
If you're shipping temperature-sensitive investigational medicinal products (IMPs), or any other kind of temperature-sensitive products, we have a wide range of temperature-controlled packaging solutions designed to keep your samples at the required temperature throughout your payload's journey.
Our BioTherm temperature-controlled packaging, combined with both the PathoPak and PathoShield products, provide complaint, easy to use clinical trials packaging solutions where logistics require specific temperature controls but do not require tracking.
To learn more about all of our temperature-controlled packaging solutions, click the button below.
Find out more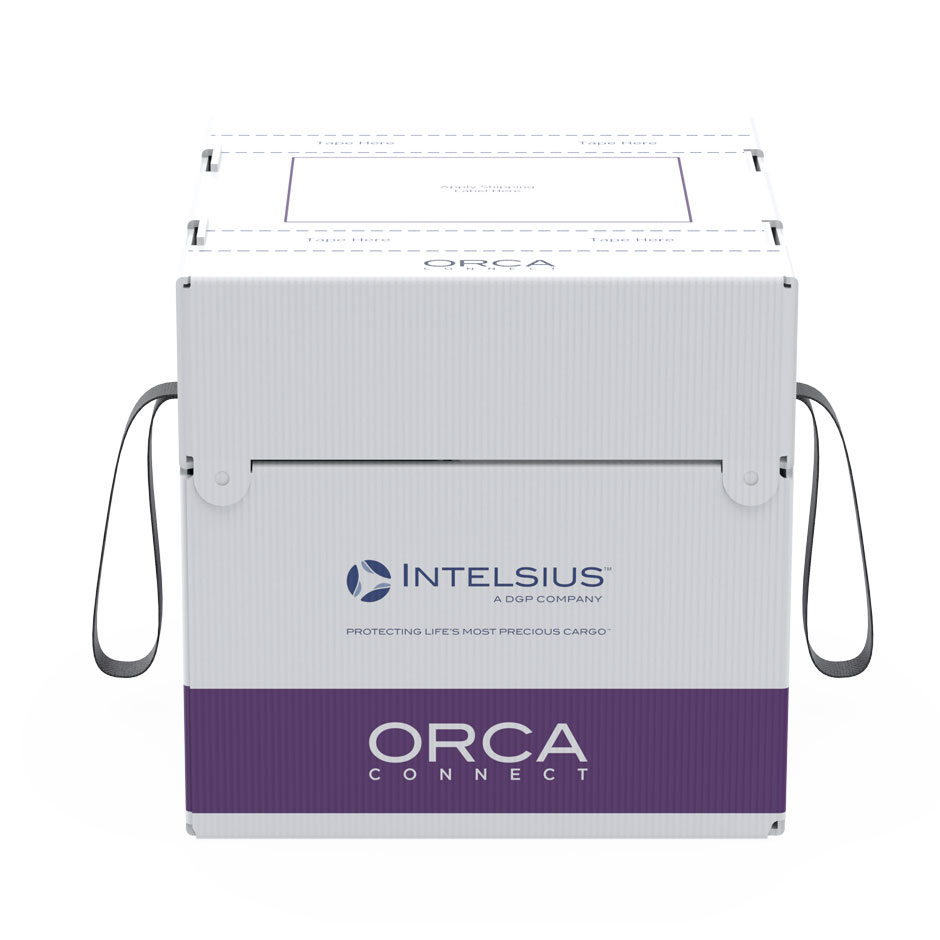 Track Your Samples
Traceability of investigational medicinal products (IMPs) in transit has become a necessity for clinical research organisations (CROs). You need to know where your product is at all times and whether there have been any deviations in onboard temperature.
ORCA Connect combines high-performance, passive, temperature-controlled packaging with a flexible, open platform concept allowing for various data loggers, ensuring real-time tracking of your payloads anywhere in the cold chain.
Just like the wider ORCA range, ORCA Connect comprises both vacuum insulated panels and advanced phase change materials to create unparalleled temperature performance, providing a minimum of 96 hours of temperature control in even the most demanding shipping lanes.
Click below to find out more about ORCA Connect.
Find Out More
Get in Touch
Communication and flexibility are crucial when creating the perfect clinical trials packaging solution; our sales experts can offer advice on the transportation of a wide variety of pharmaceuticals and samples.
Our team can help you:
Achieve Category A and B compliance
Find the correct off-the-shelf solution for your specific clinical trial needs
Or, create a bespoke solution that meets your specific clinical trial needs
To speak directly to a member of our dedicated team, click the button below.
Get in Touch
Our Top Selling Products for Clinical Trials