When it comes to temperature-controlled packaging, we understand that performance, flexibility, and availability are key. ORCA temperature-controlled packaging solutions give you high-performance temperature control in a way suited to your cold chain, as and when you need it.
If you're shipping vaccines, pharmaceuticals or biopharmaceuticals, human or animal samples, or any other temperature-sensitive products, scroll down to discover how ORCA can meet your cold chain packaging needs. Or, to head to straight to our dedicated ORCA temperature-controlled packaging pages, click here.
Why ORCA?
Performance
ORCA temperature-controlled packaging has been carefully designed to transport high-value temperature-sensitive payloads anywhere in the cold chain, maintaining efficacy no matter the external temperature demand. Qualified against challenging ISTA 7D standards, ORCA temperature-controlled packaging can maintain temperature-stability for up to 96 hours with advanced PCMs, or up to 120 hours with dry ice.
Technology
Combining vacuum insulated panel (VIP) technology, and advanced phase change materials (PCM), we've put your needs at the forefront of design to create our highest performing range of temperature-controlled packaging yet. And, with ORCA Connect you can access a truly connected temperature-controlled packaging system securing real-time visibility throughout the cold chain.
Supply
With offices and distributors in every continent, ORCA temperature-controlled packaging is available across the U.K., Europe, Asia, Oceania, Africa, and North and South America as and when you need it. Throughout what has been a challenging period for the cold chain packaging industry, Intelsius have maintained supply of high-quality temperature-controlled packaging around the globe.
Flexibility
Spanning temperature ranges -70°C and -20°C with dry ice, and 2-8°C and 15-25°C, the ORCA range is split into four distinct product types, solving specific cold chain problems. Discover each of these below.
The ORCA Range
ORCA Multi-Use is a range of high-performance, reusable, temperature-controlled packaging solutions that lessen your carbon footprint, reduce waste, and decrease costs. These sustainable temperature-controlled packaging solutions use an innovative design, ensuring your product reaches its destination with maximum efficacy.
The ORCA Multi-Use range utilises advanced Phase Change Materials and Vacuum Insulation Panels, creating unparalleled performance when compared against water-based systems, ensuring costly temperature excursions can be avoided.
With a strong robust outer and compact internals the ORCA Multi-Use is designed to be used multiple times before refurbishment or replacement is required. The system is also available to be rented as and when required through our Intelsius Direct Fulfilment Services.
ORCA Single-Use is a high-performance range of single use passive temperature-controlled packaging solutions that provides superior thermal protection at 2-8°C, 15-25°C, and at below -20°C using dry ice as a coolant for high value, temperature-sensitive payloads.
Ideal for one way trips the ORCA Single-Use range utilises the same advanced Vacuum Insulation Panel (VIP) and proprietary Phase Change Material (PCM) technology as our multi-use ORCA systems, creating unrivalled performance to volumetric weight ratios for single use systems.
The more affordable of the ORCA range, ORCA Single-Use solutions offer up to 96 hours of thermal protection against both extreme hot and cold environments with simple pre-conditioning. This performance, matched with an extensive use of recyclable materials provides a greener solution when the packaging cannot be returned and reused.
ORCA Response is a new, highly portable, multi-use temperature-controlled packaging solution giving you a minimum of 48 hours of temperature control at 2 to 8˚C, 15 to 25˚C, and -25 to -15˚C.
Utilising uniquely shaped PCM panels and VIP technology, ORCA Response is a packaging solution that can be comfortably carried by hand for rapid payload transportation, making it ideal for last mile deliveries for payloads of 1 -2L.
ORCA Connect combines high-performance, passive, temperature-controlled packaging, with a flexible, open platform concept allowing for a variety of data loggers, ensuring real-time tracking of your payloads anywhere in the cold chain.
Just like the wider ORCA range, ORCA Connect comprises both vacuum insulated panels and advanced phase change materials to create unparalleled temperature performance, providing a minimum of 96 hours temperature control in even the most demanding shipping lanes.
Discover how we work with specialist data logger manufacturers to create truly connected packaging, here.
Peace of Mind
We understand that getting your sensitive, high-value samples and products from A to B is vital to your business. That's why our expert Technical Team rigorously test all our packaging solutions at our on-site ISTA-certified laboratory.
Testing has three core tenants: thermal, virtual, and physical testing. Each of these testing programmes is designed to ensure your payload can withstand even the most extreme external temperatures and shipping lanes.
Click here to discover more about how we design and test all our ORCA packaging solutions, ensuring only the highest quality systems reach you, the customer.
ORCA Rental
Customised to your cold chain requirements, ORCA Rental will help support fluctuations in demand and ensure temperature-controlled packaging costs can be effectively controlled.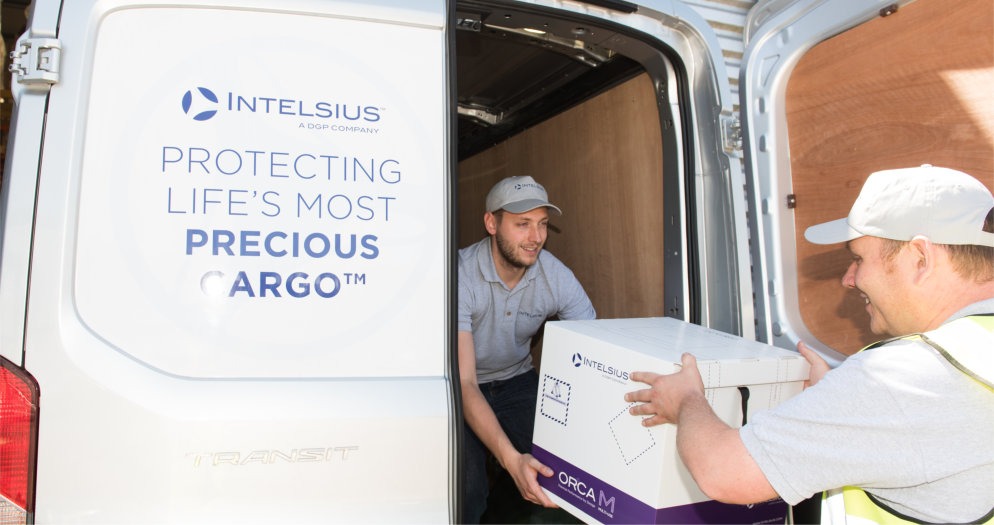 ORCA Rental  give users the opportunity to use the very best in temperature-controlled packaging in a way suited to their cold chain processes. This leads to many benefits:
Trusted and qualified temperature-controlled packaging, ready to use when you need it:
Increase flexibility to react to changes in demand
Reduce stock holding requirements
Only pay for the packaging required
Utilise Intelsius expertise in preparation and conditioning
Ensure a minimum of 96 hours of performance
To read more about ORCA Rental, click here.
Sustainability
We take our responsibility to the environment seriously. In real terms, this responsibility impacts the way we design and develop our products, the materials we use, our commitment to recycling, and the partnerships we form with environmentally driven charity organisations.
ORCA temperatures-controlled packaging positively impacts the environment in a number of ways: ORCA Single-Use is fully recyclable, ORCA Multi-Use can be reused multiple times, cutting down on waste, and all our ORCA solutions remove the need for temperature-controlled vehicles, reducing vehicular emissions.
Beyond the materials we use, Our Green Mission impacts the kind of services we supply. ORCA Fulfilment reduces your stock holding requirements, massively impacts waste, and ensures that only the packaging you need is in circulation, with all packaging refurbished and reused once it's been returned to Intelsius.
And, for every ORCA Fulfilment rental solution purchased, we plant one tree, with U.S.-based charity, One Tree Planted. Click here to find out more about Our Green Mission, our tree planting promise, and how we work with One Tree Planted to restore our natural environment.
Get in Touch
To speak to a member of your local team about how ORCA temperature-controlled packaging solutions can transform your cold chain, click the button below.
Buy Online
If you already know what you need and you want to buy direct from Intelsius' online shop, click the button below.